Aluminum & Polycarbonate Carport Supplier - Excelite Carport
If you're looking for a professional Aluminum carport manufacturer, Excelite is your better choice.
Developed from the traditional wooden carport, Excelite Carport Canopy is made from much more sturdy and light materials: Polycarbonate Sheet and  Aluminum alloy frame.
EXCELITE polycarbonate carport is assembled with 60% aluminum alloy frame, 35% polycarbonate solid 2mm thick sheet, and related stainless steel hardware accessories, which offer a modern, lightweight, strong and durable structure shade to protect your car(s) from sun, rain, snow, hail, etc.
Excelite Aluminum carport is a lightweight yet strong aluminum structure. The single carport has a stylishly modern, curved cantilevered aluminum roof structure supported by two vertical columns. This design makes it extremely versatile- it can be installed almost anywhere!
Excelite Aluminum carport comes with a kit and will include all the components, as well as clear Installation instructions so you can put it together in one weekend!
Excelite Aluminum and Polycarbonate carport
Carport Structure
The frame is made of high-intensity aluminum alloy and processed with electrophoretic coating or anthracite powder coating technology
Carport Shading Material
Unbreakable, high impact, 1.8mm thick polycarbonate solid sheet is made of 100% virgin materials from Bayer, with one side 50 micron UV layer, prevent 99.9% harmful UV.
DIY Carport
All pre-drilled frames and pre-cut panels, safe, quick and easy for DIY assembly
Why Excelite Aluminum Carport
Rust-resistant, coated frame made of heavy duty aluminum and laser cut galvanized steel connectors support this carport with sturdy profile
Virtually unbreakable, advanced engineered 8mm solid polycarbonate roof panels are highly impact, shatter resistant and protect from inclement weather. And UV film provides perfect UV blockage, UV protection and anti-yellowing itself.
Integrated gutter and gutter heads allow you to easily channel and collect rainwater for a sustainable irrigation system
Embedded post with re-bar is much more solid than anchor screws fastening system.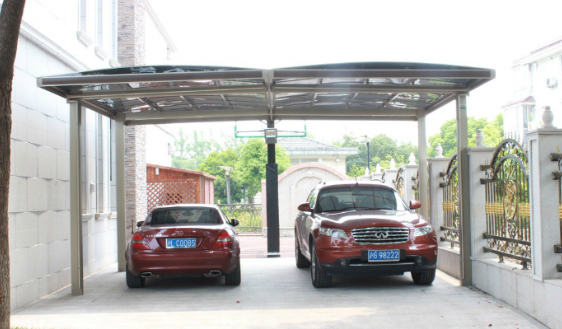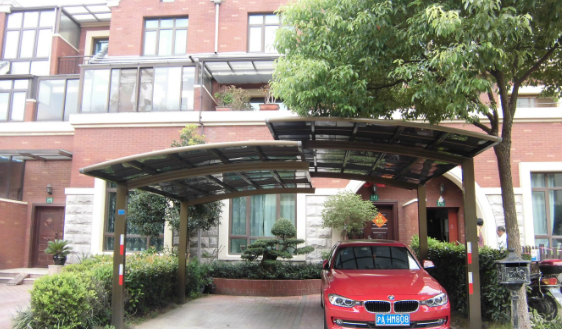 Get experience on Polycarbonate panel and aluminum structure for over 15 years, Excelite have engaged in carport production for 5 years, leading the manufacture of it in China, and even in the world
Strong R&D capability and professional technician support, Excelite supply with most reasonable solution for your carport and patio cover projects!
Sufficient stock of raw material and fully occupied factory, can guarantee the short lead time and attentive sales service
Customize service is always supported to meet your unique need!
Listen to What Our Clients Say about Excelite Aluminum and Polycarbonate Carport
I love the quality and appearance of the finished carport and it fits perfectly in the space where it was installed. Beautiful and shining frame with clear panel, look so elegant and sturdy.
Richard

The profile is light but durable, the panel is solid PC sheet, not the hollow sheet I saw in my neighbor's yard. That said, I do like the carport and I am very satisfied with the quality of the materials.
Barry Crow

I was very interested in this carport when I came across it in a fair, and decided to promote it to my local market. Then it did not let me down, now its demand is triple of the traditional carport tent!
Asa Perlman